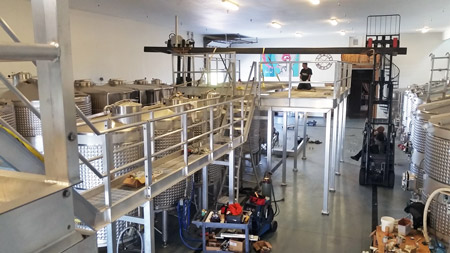 For more than a decade, Allweld Metal Fabrication Inc. has served the wine industry in Napa County, CA by fabricating and installing catwalks, as well as winery fixtures, equipment and piping. Not only do we have the skill required for these complex fabrications, we're also familiar with the high-degree of quality required for winery metal fixtures and equipment. Our abilities are specially tailored to this industry.
Optimize Your Facilities
Why engage with us to fabricate winery catwalks? Because square footage is too precious not to use your vertical space! In fact, we can show you exactly how to make the most of your facilities. We utilize a new technology to field-measure existing rooms that can be cluttered with piping, tanks and equipment. This ensures fast, accurate drawings for catwalks, and also decreases hold-ups and job costs, creating a cleaner, faster, more cost-effective buildout for your catwalk.
Complete Project Oversight
You've got better things to do with your time than overseeing the buildout of winery metal fixtures and equipment. Leave the project management to us! Our experienced team performs the entire job start to finish, with no need for a design team or additional contractors. By working directly with you, we make sure your unique and specific needs are understood, and that you're getting the finished installation you need without the added cost of an outside designer.
Quality Builds, At-Scale
Whether you run a small bottling operation or a complete winery or distillery, we fabricate catwalk and fixture solutions at-scale. We maintain the highest standards throughout the design and fabrication process, so you're guaranteed an end result that meets code and safety specifications, and serves the needs of your facility without fail for the life of the installation.
Optimize Your Winery Facilities
Need to make better use of your winery's vertical space with a catwalk installation? Contact the team at Allweld Metal Fabrication Inc. today by calling 707-815-5280. We'll consult with you about the specifications and the buildout timeline of winery metal fixtures and equipment at your Napa County, CA facility.