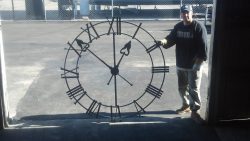 Welding is a scalable service—meaning the quality of work you're liable to receive from metal fabrication shops can differ greatly based on the experience of its employees. At Allweld Metal Fabrication Inc., we don't take chances with your project—instead, we ensure it's handled by an experienced fabrication team in the Northbay of CA who can produce nothing short of exceptional results.
Our welding shop is equipped with the resources and expert staff needed to succeed in any capacity when it comes to metal fabrication. If you have a custom job that requires expert workmanship, look no further than us.
Aluminum & Stainless Steel Welding
There's no one better equipped to provide you with aluminum and stainless steel welding in Napa, CA!
Fabrication services
As a full service iron fabrication shop, we have the tools and experience to ensure your project receives the personalized attention it needs to be completed to the fullest. Our tenure within the industry has led us to offer fabrication services of all types, including all of the following:
Available Services
Bending
Rolling
Forming
Shearing
Prime Painting
Value Engineering
Consulting
Waterjet, Plasma, and Lasercutting
Detailing
Galvanizing
Sand-Blasting
More than just delivering this wide breadth of capabilities, our experts work to ensure our work meets the highest standards for quality. No matter if you require rolling or plasma cutting, or a combination of fabrication services, we're ready to deliver excellence and a one-stop shop for all aspects of fabrication.
Our capabilities
In our years of aluminum and titanium welding and fabricating, we've worked on projects of all types and sizes. This has led us to develop a strong portfolio of completed projects and the capabilities needed to tackle yours thoroughly. Some of our core capabilities include:
Structural
Ornamental
Piping
Wrought iron
Dairy, winery, pharmaceutical grade
Agricultural and automotive
Repair
Artwork
For more information about the wide range of services we're able to offer you or to inquire about our full range of steel, aluminum welding, and titanium welding services, we invite you to contact us today by calling 707-252-7875.